More Victorian Products!
Browse by Department:




Handmade Victorian Style Christmas Tree Ornaments

by


Jeanne Barnett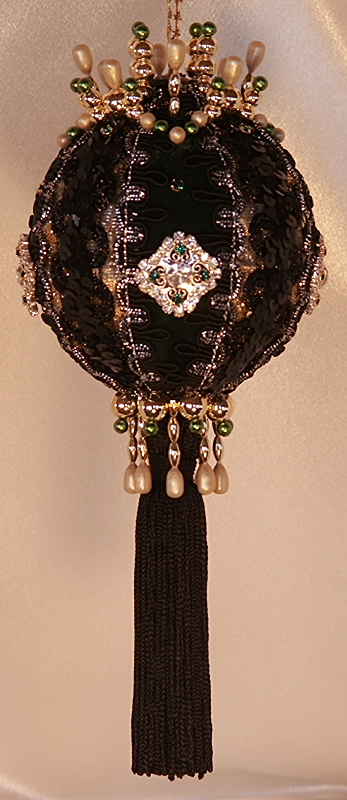 "Lady Ophelia"
$39.95
"Lady Ophelia" Nothing says Sassy like black sequins and velvet! Lady Ophelia begins her couture with a double sheer layer of gold, silver and black, setting off the shiny black sequins perfectly, the four real hunter green velvet panels are bordered in yet another rich silver and black brocade. The overall effect is 8 gorgeous panels that each have a triple panel effect - gold/black/gold and silver&black/hunter/silver&black, and all 24 sections sparkle and dance, actually grabbing all available light even in a dark room! The 4 velvet panels each are embellished with a diamond shaped crystal rhinestone button that has been further bejeweled with 4 Genuine Emerald Swarovski crystals, 3mm in size and set in a 4 prong gold plated settting. The crown top, with a scalloped pearl design compliments the tassel and pearl bottom t perfection and there are an additional 8 Swarovski crystals around the top bringing the crystal count all the way up to 24! "Wow!" is about all anyone can say when they feast their eyes upon Lady Ophelia CREATED ON A FULL 3" BASE, THE SIZE OF THIS ORNAMENT IS APP. 3.5 INCHES IN DIAMETER AND APP. 8 INCHES FROM CROWN TOP TO TASSEL BOTTOM.